WELCOME TO GUACAMAYO ECOLODGE
Guacamayo Ecolodge is one of the first susteinable project in the Cuyabeno Reserve, created  by professionals naturalist guides, with a wide experience in the Tourism Industry. The lodge offers packages for 3, 4 or 5 days . Bird watching tours also available upon request.
Our guests who have a few days to visit the Amazon of Ecuador, the 3-day package also gives them the opportunity to dive into the depths of the Amazon.
It is an experience that you can find in the Cuyabeno Reserve area, combined with our stay at the Guayacamayo Ecolodge.
The tour of 4 days 3 nights in the Cuyabeno Wildlife Reserve is the most optional, since you can visit the Indigenous culture of the Sionas, Ecuador, one of the most diverse countries of the Amazon
In the event that our guests wish not to carry out the Cultural activity, they can change it with other activities in the jungle.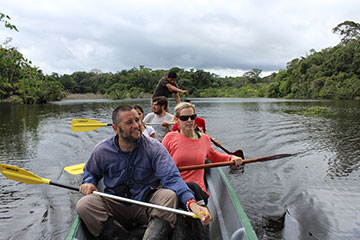 Gives you more opportunities to paddle and visit other places in the Cuyabeno Reserve, so also the possibilities of observing wildlife is mostly successful, entering other areas in search of animals
Guacamayo Lodge
Location Quito
Guacamayo Lodge
Location Cuyabeno