Guacamayo Ecolodge is one of the first sustainable project in the Cuyabeno Reserve, created  by professionals naturalist guides, with a wide experience in the Tourism Industry. The lodge offers packages for 3, 4 or 5 days . Bird watching tours also available upon request.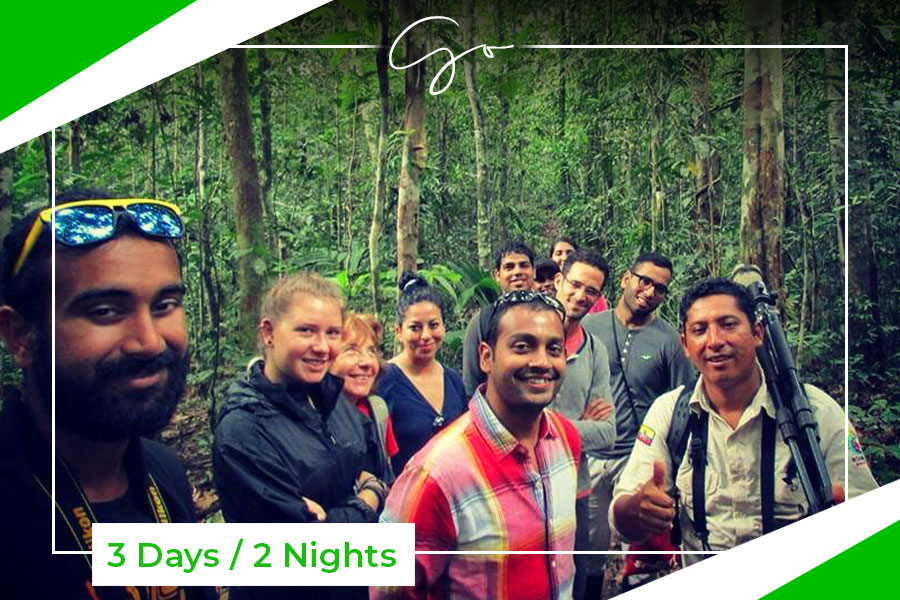 3 days / 2 nights

Cuyabeno
4 days / 3 nights

Cuyabeno
ADVENTURE  5 Days 4 Nights
5 days / 4 nights

Cuyabeno
Comfortable spaces, rooms and more
Guacamayo Ecolodge offers integrated accommodation in the middle of nature, so it has solar energy to charge the batteries of cameras or other electronic objects, rooms with private bathroom and hot shower; It also provides modern biodigesters for the sanitary system, a 30-meter observation tower exclusive to Guacamayo Ecolodge, hammock area. As well as contributing to the economic development of the Siona community that is located within this protected area. So tourism is the main axis of sustainable development of this community.
Latest Tripadvisor reviews

SIMPLY THE BEST Best trip of our lives! We spent 3 nights and 4 days in The Cuyabeno Reserve and stayed at the Guacamayo Lodge, we couldn't have picked a better lodge! The service, hospitality and the food were simply great. But what made the experience even better were the guides, Elivis, Bruce and Washington. They were all extremely passionate about their job and made everyone fell in love with the jungle and its inhabitants. We were able to see many animals such as various species of monkeys, birds, insects, pink dolphins, caimans and even snakes; the guides always gave a clear explanation about all of them. We would recommend the lodge and the entire trip to anyone because it will fill your mind and your heart and you won't be able to ever forget the feeling while cruising and swimming in the river, watching the breathtaking sunsets and listening to the many sounds of the jungle. Regards from Francesca e Andrea

It was great! I didn't expect this to be so good. The staff at Guacamayo Ecolodge was really outgoing and helpful. The food was very tasty and portions were big enough. Motorboat drivers were amazing at navigating as they've been probably raised by jaguars and hence could see in the darkness. Our guide Francesco was incredible at spotting wild animals and telling us about them. During our trip, we saw an anaconda, a couple of pythons, pink dolphins, a cayman, a few kinds of monkeys, toucans, parrots, various tarantulas, spiders, butterflies, and other bugs. Thank you guys for this awesome trip!

Best trip ever! This trip was AMAZING. We did 5 days, 4 nights. The food was really good, the guides are speaking english and they have unreal knowledge. We had Fransisco as a guide, his enthousiasm was very pure. He grew up in the Amazone and knows all the ins and outs. The trips are great, we have seen birds monkeys slots pink dolphins anaconda and other snakes and many more! The bus going there was spacious and it goes by night so you can do a good sleep. The lodge is very clean and good organized. With hot water showers and working toilets. I would definitely recommend this trip!

Magical place The guacamayo lodge is a Beautiful place deep in the amazone of Ecuador. The last part of the journey is already a big adventure because you have to take a motorized canoe down the river for 2 hours. The host were very friendly and the guide, Francisco, really made the trip incredible with his knowledge, sharp eyes, good stories and humor. We have seen so many beautiful animals and after every trip you get a good meal at the lodge, a warm bed and a room with your own bathroom. What an amazing experience, very grateful!

"Guacamole" -myo Ecolodge is INCREDIBLE !!! Talk about a real adventure. I am so grateful for the experience I had at Guacamyo Ecolodge. I have traveled quite a bit around the world and have never had an experience like this one. From the sunrises to sunsets, exhilarating hikes to night strolls, hammock swinging to long kayaking rides, everything was an outstanding time! I enjoyed my visit so much, that I extended my stay. Honestly, I was in heaven with the beautiful sounds of the noisy jungle, the music of the animals and neat insects, and sightseeing of exotic creatures. Shout out to my forever long lost friends Washer and Vinny! I already miss them dearly. Washer was extremely knowledgeable of the rainforest, respectful, kind-hearted and just an overall great guy. The tour guides added enrichment to the experience well beyond imagined. Thank you, Washer, Vinny, Jaime, Debhour, and the Chef! Which leads me to my next point, the food was delicous!! I was amazed he could cook gourmet food in the middle of the Amazon! Guacamayo Ecolodge was by far my favorite part of my entire experience in Ecuador. Muchas gracias mis amigos!!!! Christina Baxter Ps- Washer, I hope you found the paddle!

A great place to spend a couple of days away from civilization. First of all a big Thank You to our guide Francesco and all the staff at Guscamayo. The whole trip has been an amazing experience. Everything was perfectly organized, the meals were always ready on time and were delicious. At dinner, we were always briefed about the activities of the next day so we knew what to prepare for. The activities were designed such that we spent the maximum amount of time either roaming through the jungle, riding a boat or swimming in the lagoon. Our guide Francesco had eyes like a hawk and spotted even the best camouflaged animal. He was extremely knowledgeable, helpful and passionate about his job. It has been a fantastic experience!

Amazing trip, really recommended I enjoyed every second in Cuyabeno, Diego, our guide was super professional and knows every detail of the jungle. The Guayacamayo lodge is perfect for having an amazing time, people are so nice, friendly and the accommodations are super comfortable.

Séjour inoubliable Une expérience de folie grâce aux activités hyper enrichissantes et au staff accueillant et bon délire, en plus on y mange super bien, je recommande à fond. Parfait pour les amoureux de la nature, les sportifs ou les familles, ne pas hésiter à prendre 5 jours ou plus pour découvrir un maximum la faune et la flore de la réserve ils ne sont jamais à court de surprise.
Best guide and lodge in the Ecuadorean Amazon! We stayed here for 4 days and 3 nights and it was one of the best experiences of my life. We saw more animals than I could mention, swam in the lagoon with neighbouring caiman and anacondas, and enjoyed some of the nicest food we've tasted in a while. Our guide was Washington and he was absolutly unreal. Making everyone feel welcome, spotting the animals like a professional and just being full of knowledge. Then after each days tour we were welcomed back at the lodge by the amazing staff. They all made us feel at home and it was just generally one of the best moments of my travels (6years travelling!) Thankyou Washington and all the staff at Guacamayo Ecolodge, Matt & Xenia

Tatiana Caughini
2020-12-02
Una experiencia magica !! Tuvimos una excelente estadía en el corazón de la selva amazónica en la reserva Cuyabeno !! Cómodamente instaladas en el ecolodge Guacamayo hemos aprovechado al máximo esta experiencia fuera del tiempo! Todas las instalaciones eran impecables, las camas cómodas  y las comidas sabrosas¡ Fuimos encantadas por esta exuberante vegetación y toda esta vida silvestre al alcance de la vista! ¡ Le agradecimos mucho a Elvis que compartió apasionadamente todo su conocimiento sobre este magnífico bosque!
Guacamayo Lodge Location Quito
Guacamayo Lodge Location Cuyabeno